If you're searching for something a bit more dramatic that will get your blood pumping, we have compiled a list of the 10 best Roblox zombie games. Roblox has always had a thriving zombie gaming community. Zombie games are now more entertaining than haunting, thanks to the cartoon graphics, and they generally feature a large number of people facing waves of creatures. You may gain additional weaponry and cosmetics, as well as invite your friends to play.
So, today we'll continue with our 10 Best Roblox Zombie Games. So, without further ado, let's get started!
10 Best Roblox Zombie Games
Project Lazarus is one of the Best Roblox Zombie Games we know. This is the sequel to Call of Robloxia: Zombies, which was a huge hit. It's pretty similar to Call of Duty in terms of gameplay: you have to survive waves of zombies, each one increasingly more difficult. Each battle contains a total of six players and a Mystery Box that is similar to that seen in Call of Duty. If you like Call of Duty's Zombies mode, you'll love this game.
It's a similar wave-based zombie game to Zombie Attack, but with additional content, activities, and collectibles. Once you've turned, you can even change into a zombie to finish out the last survivors. When you've had your fill of avoiding being eaten (or eating brains), you may go on to something a little more humorous.
Roblox's Zombie Tag is a classic Roblox zombie games. Some players take on the role of zombies, while others must hide or fight them as they assault. Human players must gather keys strewn throughout the landscape, open each of the safes, and then flee in a helicopter.
Players may take part in a variety of activities in this open-world game, from fortifying bases to keeping an eye out for aggressive surviving victims. Players may use a variety of weapons to fight the scared zombies in this Roblox adventure game. Players can play this game alone or at a party with other players in their fight for life.
With waves upon waves of zombies attacking you, MMC Zombies Project is a highly rated zombie game that obviously takes inspiration from Call of Duty: World At War zombies. You may construct barricades, purchase iconic weapons (such as the M1 Garand), and enhance your equipment.
The map looks just like the original Call of Duty zombies map, so if you've played it previously, it'll bring back some memories. Though there may be up to 40 people on a server at any given moment, this is a game that is best played with your buddies.
You may also like The Best Roblox Games to Play with Friends and 10 The Scariest Game on Roblox
Another famous zombie game, Zombie Strike, claims to be inspired by Counter-Strike and Dwarf Fortress. If you can discover the legendary perk that allows you to use two weapons at once, you can do so with the new Dual Wield update.
Zombie Strike is a multiplayer game that takes place on a vast open battlefield. To survive the onslaught of zombies, you may utilize special equipment like grenades and healing potions, which you acquire by beating zombies and completing tasks.
You and a group of other players team together to fight the zombie army. It is one of the most thorough, zombie games out there, with an active fanbase and more than 5 million plays to date.
7. Among Us Zombies
This game adds waves of zombies to the odd graphics and spaceship map of Among Us. By beating zombies, you earn cash that you may spend on new weapons, much like in previous games.
It has nothing in common with Among Us in terms of gameplay. There are no imposters or challenges (though there are a few distinct jobs to perform), and there is no player voting system. That's all there is to it. It's just Among Us characters killing zombies.
The main goal of the game is to make it through 11 waves of hazardous monsters (10 waves and a boss battle). Everyone is equipped with a P-220 and two explosives as the game begins.
The complexity of the game increases as the waves go, with each wave increasing the number of animals or introducing new foes until the last wave, which is a boss encounter. If all players on the server die, or if the timer runs out on the last wave, the game is lost.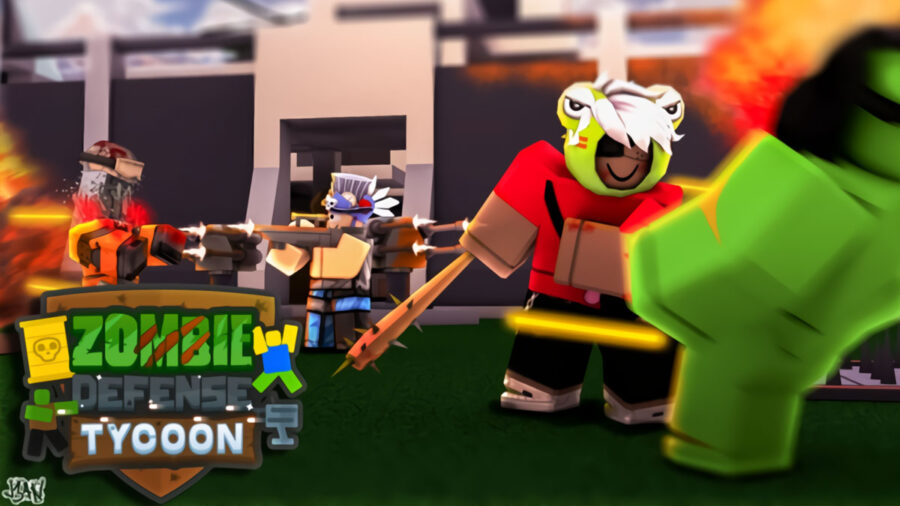 Zombie Defense Tycoon is a zombie game unlike any other. This is more of a tower defense game where you must build up your base to defend against waves of attacking zombies, rather than utilizing weapons yourself. To farm resources, you'll need to build up a mini-factory.
You then use those resources to create turrets, tire barriers, and rocket emplacements, among other defenses. To get to the top-tier weaponry, you must put in a lot of effort. You may even buy a weapon for your character to use if you so want.
Field Trip Z, unlike many of the other zombie games on our list, takes you on a journey with many endings. You may go through the game as many times as you like since the decisions you make and the pathways you follow all lead to various ends. It's one of Roblox's greatest story-based games.
But it's not all about the tale. Field Trip Z is known for its colossal zombie bosses. These massive monsters will need to be defeated in order to proceed through the game and are best attacked as a group of people. There are plenty of parkour leaps and puzzles for you and your friends to try out.