People may not think of Roblox when they are looking for horror games, but in fact, the platform does have a number of developers creating some very creepy stuff. Roblox developers do an excellent job of keeping players involved and on the edge of their seats, while some of the games are downright terrifying.
As Roblox becomes more popular throughout the world, we're seeing an increase in the number of terrifying Roblox games on the market. Players that are seeking the scariest game on Roblox have a lot of options to choose from. We have compiled it from the scariest to less, check out our list below.
The Scariest Game on Roblox
1. Dead Silence
"Dead Silence," from DoomX10, is based on the eponymous 2007 film and has players solving the mystery of Mary Shaw alone or with up to three teammates. A little girl was discovered dead with her tongue cut out after receiving a ventriloquist doll anonymously. In order to succeed in this gripping first-person thriller, players must complete challenges, overcome jump scares, and uncover the murder of their companion.
2. Roses
This game will send shivers down your spine within the first 5 minutes. You must explore a creepy institution for a friend, but the craziness has layers upon layers of depth. The attention to detail is exceptional, and it will occasionally astound you.
Roses will have you coming back for more if you enjoy horror games. This isn't your normal Roblox game, and the immersion is unparalleled. Because you're playing in first-person, you'll feel confined within an abandoned facility, and you'll have to investigate every sound and incident as it happens.
3. The Maze
The Maze is a classic that has just been updated. This "game" is a must-see for horror enthusiasts, with over 153 million visitors.
According to developer @HyperSlica, it is a jumpscare guaranteed, can serve up to 12 people, and will be continually updated. According to the creator, the terrain looks to be expansive at first, but after players enter the maze, it becomes considerably more constrained. This is the ideal setting for making friends crack up and scream.
4. Alone in a Dark House
You will be matched against up to 20 other players in Alone in a Dark House, where you will have to solve riddles and fight every monster that comes your way. As a private investigator, your mission is to investigate the mystery surrounding a vehicular murder. You'll have to go further into the spiral of chaos and suffering to find out what's going on.
Alone in a Dark House is a true horror experience that takes nothing away from the genre while surprising you at every turn. This is a real masterpiece in its own right that you should not overlook. This is one of the most popular Roblox horror games.
5. Finders Keepers
Some Roblox artists are passionate about bringing their visions to reality, so they're continuously looking for methods to enhance and update their creations for their audience. Finders Keepers was first released in 2018, but author @ojbaby just updated it in 2021. Those who have not yet completed the spooky mission will be trapped inside a home by what appears to be a demonic creature. The only way to stop the paranormal activity and prevent an imminent calamity is to gather disks.
You may also like 10 Best Tower Defense Games On Roblox and Best 9 Realistic Roblox Games
6. Nightmare Mine
Nightmare Mine is an action horror game in which you will be pitted against zombies at every move. It will offer you the maximum value of creeps, and it will be your responsibility to stop them from spreading and infecting the entire city.
The game begins with you in a mine, where the miners that worked there have been transformed into zombies who want to devour your brains. A stunning Roblox action-adventure game based on a classic zombie narrative.
7. Bear Alpha
In this ten-player survival game, one player is placed in the paws of Bear and must hunt down and murder the other players in less than five minutes. Bear is faster than the survivors, although they can find weapons and have a limited sprint ability to make brief getaways. Designer Cheedaman's tone is dark and scary, with ominous music to accompany.
8. Identity Fraud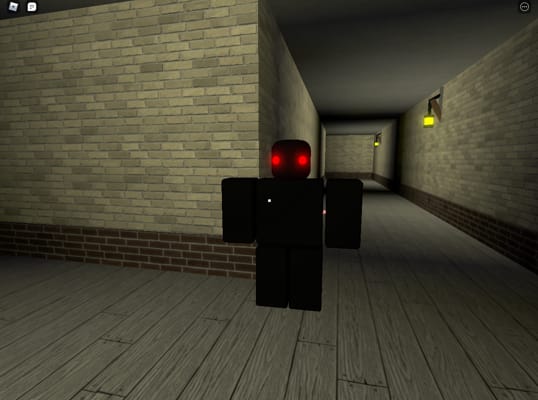 You may play Identity Fraud on different stages, and your goal is to solve the problem and reach the finish of the maze. The fact that each level has different monsters out to get you adds to the intrigue.
Each creature has a distinct means of defeating it, and things might get so overwhelming that you just give up. At the end of it all, you'll have to fight a boss at each level. This fast-paced game will keep you on your toes while also scaring the living daylights out of you.
Check Also Identity Fraud Maze Code
9. Stop It, Slender
In this horror game made by Kinnis97 and inspired by the internet-born, contemporary myth of the Slender Man, you can play as Slenderman, one of his minions, or a Citizen. While being pursued by Slender and his Minions, citizens must locate eight well-hidden pages, activate three generators, and kill Slender. Slender has a limited array of techniques at his disposal, and minions have skills that may either damage or benefit the Citizens.
10. The Mimic
As @MUCDICH, creator of The Mimic demonstrates, Roblox has some fantastic storytellers. This terrifying book is divided into four segments, each based on Japanese mythology and terrifying urban stories. It's thrilling enough to go through one plot, but loading up The Mimic lets players experience four other storylines, each with its own cast of people and tension. The Mimic offers plenty of scary atmospheres and jumpscares for those who enjoy them.